***Not really proofread because I got things to do today!!!***
Hello everyone, it's Rammfan518 here with another article! The first one in about two months, which I apologize for. I would love to write more, but am wondering if anyone is reading it? I don't know. I don't want to fill this blog with silly posts that are like one sentence long, yet I don't want to Twitter or anything. We'll see… Discuss it down in the comments if you care enough (I totally understand if you don't). This, however, is not the time to talk about blogging, but 2011! So let's take a look at movies, music, books, and so forth, as well as check my horoscope for 2012!
Movies:
Sucker Punch – Dreadful
Your Highness – Why didn't anyone else like this movie? I thought it was awesome.
Thor – All right…
Bridesmaids – Didn't love it as much as everyone else, it seems, but have to admit it is pretty funny.
Pirates 4: On Stranger Tides: After the stinker that was "At World's End", I couldn't believe they were actually making a fourth one. I rented it from the Redbox last month in hopes of getting some masochistic sensations, but found myself rather enjoying it. This time, the plot (while it did have some stupid stuff) wasn't all muddled up and confusing. Most noteworthy were the action scenes and set-pieces, that were all unique and interesting. Not bad…not bad…almost forgives Pirates 3, almost.
Kung Fu Panda 2 – AMAZING. I love these movies so much!
Super 8 – My favorite movie of the year. :)
Transformers 3 – God awful. And that stupid speech at the end with that big American flag…give me a break.
Harry Potter and the Deathly Hallows, Part II – A fitting conclusion to such a massive franchise. Snape's scene was :(. The ending celebrations (or lack thereof) was a bit confusing. Um..hello…your enemy is defeated, and all you do is sit aroundin the great hall? Where's the partying?!
Captain America – A lot better than I thought. It was pretty great, actually.
The Help – Emotional, funny, sad. Pretty good.
Crazy, Stupid, Love – This one was a nice surprise. Entirely enjoyable.
Anonymous – HUGE disappointment. It wasn't even about Shakespeare that much, but instead the throne of England. Boring.
The Girl with the Dragon Tattoo – I was rolling my eyes when I heard they were making an American version of the Swedish phenomenon. Even now, I'm still kind of confused why we needed an American one. The Swedish ones were good enough, in my opinion, but then I realized, hey, why not have more "Dragon Tattoo" versions? Why would I have to like one or the other? Why not like both? Which I do. This American version was thoroughly enjoyable and tense. They included the final scene from the book as well, which (if my memory serves me right) wasn't in the Swedish version. I'm still a little perplexed by the marketing strategy (boobs everywhere), but that aside, Fincher's version will most likely be alongside my Swedish version DVDs, y'know…if I have enough money to buy either of them.
So all in all, not a bad year in movies. I did like some of the sequels, but come on, that was nearly all there was this year. Cars 2? Did we really need a Cars 2?
Television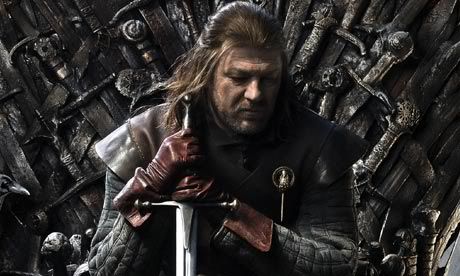 -"Game of Thrones" kicks ass and has a lot more nudity than you'd ever expect. VERY excited for season two. Starz's response to this, their "Camelot" is down-right awful. Not even Eva Green could save it…and I love her!
-I don't know why everyone hates "Whitney," but I'd be suprised if any of the haters had actually seen any episodes, and not just the terrible ads it had around here in L.A. I'll admit the ads were lame, but the show is actually pretty funny. So where's all the hate coming from? It's definitely not as bad as that dumb George Lopez sitcom, and that was on for like five years!
-"Two Broke Girls" manages to be pretty damn funny, with a two lovable leads.
-While some people are hating on the seventh season of "How I Met Your Mother", I'm enjoying the hell out of it. Nearly every episode has a huge "gasp" moment that has my mouth dropping to the floor, or an "awwww" moment that makes me all :( Good season, but I'll even admit that it might be losing it's focus about Ted finding those kids' mother. Wait a minute, how do we even know that those kids Ted is talking to are his? Do they ever call him "dad"? What if he became a cop and found a missing woman who is the mom of those two kids? It would still be "How I Met Your Mother"…weird! Sorry for wasting your time with that crazy thought ha.
Music:
-Turisas released their third album "Stand Up and Fight," which isn't as battle-metally or Viking-like as their previous two, but still packs a pretty powerful punch. Swords and fur are traded in for a "Mad Max crossed with Waterworld" type of look. Responding to the groans of some Viking-metal die-hards, Mathias "Warlord" Nygard defends himself with this following quote: "We wanted to make something new that sounds interesting to ourselves and of course there's always the risk of someone who really really loved your previous record is going to be disappointed because it doesn't, because it's not a copy of it, obviously. . .and, uh. . I still. . to me, it's like the only way to go, just like making what you yourself feel like the right thing and not kind of listening to what your management thinks is the right thing, not what your record label will want to hear, not even what your fans would want to hear. It's more about: you make what you want to do and hope that when your fans hear it, they will be like 'wow, I could never have asked for this but I actually like it very much'" Good for you, Tursias! (When George Lucas uses this philosophy, however, he is wrong, haha) Sad to see Hannes and Netta go, though :(
-Russian folk-metallers (pagan metal, whatever) Arkona release their "Stenka na stenku" EP, which features the great song below!!!
-Rammstein, along with FINALLY touring America again, release a "Best Of" album with a new song, whose single has another new song. Although they are looking a little old in this video, it doesn't mean they can't make a good riff and get the Buick shaking. Here is "Mein Land" from Ramms+ein! (Note: the video has boobs so is NSFW)
-Finntroll releases a special version of "Nifelvind" with three covers on them. They were all right. Nevertheless, enough to whet the appetite for any Finntroll fan for another album or DVD. Not rushing you, dudes, just sayin' I can't wait.
So, any other music I dug in 2011? Well, I found The Foo Fighters' "Walk" to be a pretty good song, before 98.7 KILLED IT by playing a thousand million times. LMFAO's new album had some great gems on it. But perhaps my favorite non-metal song of the year goes to Grouplove's "Colours". Not only is the music good, but I love the lyrical play and repitition.
Books:
-Caprice Crane releases "With a Little Luck", which is her best book since her debut "Stupid and Contagious". I met her and she signed my copy too!!! Yay!!!
-Terry Brooks releases his follow-up to "Bearers of the Black Staff", but I couldn't be less enthoused to read it. :(
-"Star Wars: The Old Republic: Revan" sends me into a frenzy of nerd excitement upon its announcement. Upon it's release, the color drains from my face. I don't want to say it's a disappointment, just not what I was expecting, I guess. But still, I bought the hardcover, damn!!!
Video Games:
I don't really play video games anymore, but I understand there were some good first-person shooters or something.
Things to look forward to next year:
-Stam1na is releasing a new album in February!!!
-The last I heard from Ensiferum was that they were soon to enter the studio. Anything from them in the next year, perhaps?
-Finntroll might announce a DVD or album. If not, then that's all right too.
-Maybe a new Ramms+ein DVD? I heard that they had filmed some material from their American tour. I'll guess we'll have to see.
-"The Dark Knight Rises", Nolan's epic conclusion to his "Dark Knight Legend". Can't wait!
-And lastly, THE HOBBITTHE HOBBITTHEHOBBITTHEHOBBITTHEHOBBITTHEHOBBITTHEHOBBITTHEHOBBIT!!!!!!!
-Oh yea, and the End of the World.
Alright everyone, now for my favorite part, the 2012 Aries Horoscope. Let's see what's in store for myself. Since I didn't do a retrospective last year, I have no 2011 horoscope to review, so we're looking forward this time. This one comes to us from "Horoscopes-Love.eu". All right, let's start!
ARIES
This horoscope year, Aries will celebrate in a harmonious aura. (Finally…) You will take great strides to weed out all things that are not necessary in your life. (Yay!) In order to go in the proper direction, you will have to act in order to get everything that is useless out of your life. Your sense of reality is stronger, this is due to the fact that you start a new Jupiter Ian cycle which helps to put things in perspective and helps to get your projects off the ground. As an Aries zodiac sign born you are orientated towards initiative and action and always look into the future. Aries horoscope 2012 is time to take the idealistic course you have been pursuing for years and to make it happen. (Kinda creepy how spot on that is…but whatever, this all applies to everyone, so whatever ha)
Aries 2012 Career and Work Horoscope (All right, let's see where I go!)
Your professional life is normal. You will find, however, that your main planet, Mars, will boost your work performance and spirit and surprise your peers. (Hmm…) Changes will begin to occur in September and by February will show notable results. During this time you might consider a change of career, however your actions may be obscured. Do not hide your creativity during 2012 year on the work front as you may find your artistic talents benefit in your career. (Deli doesn't have much space to be creative :( ) Surround yourself with likeminded people who like you strive for success.
Aries 2012 Love, Family and Social life Horoscope
Aries will find solace on the home front and will enjoy family time especially during the last two quarters of 2012. This is a year for strengthening bonds with your loved ones who always are an outlet of happiness to the Ram.
Your emotional life will stabilize this year and you will find a much more sincere picture. (I sure hope this is true). Put the negative energies of last year behind you. For coupled Arians, you will find moments of intense passion with your lover. This is the horoscope year to be open with your partner. By keeping communication open you enjoy the closeness that this year brings.
With your open mindedness, you have a tendency to crave freedom and are capable of making the best of most situations. Single Arians should be particularly alert during the middle of the horoscope year of a chance meeting, which may begin as a strong friendship and blossom into love. (They say this every year…) However, be prepared for that chance meeting anytime through the year.
This year is a year for the Ram to take extra effort to sharpen their people and communication skills. Be supportive and tactful when you find yourself in situations that are not the best but may arise in interpersonal relationships. You will find that the extra effort will bring peace and harmony in your relationships whether at work or at home during aries horoscopes 2012.
Aries 2012 Finance and Money Horoscope
While you will have a bit more judiciously in spending your money this horoscope year, you will find that the beginning of year 2012 is not a favorable time for investments, change in employment, promotions or pay raises. (Oy…) However, by the third and fourth quarter there should be signs of improvement. Cash may appear due to the powerful Jupiter aspects, as well as Mars and Mercury. This will be the time to consider changing work or starting your own company. (That'd be awesome! Here comes your first film and folk metal production company haha)
Aries 2012 Health Horoscope
2012 is a year that should be filled with good health for most Arians. However, a balanced diet and exercise (boo) are necessary as well as rest and relaxation (yay). Aries horoscope 2011 keep balanced and stay calm as it is important despite your tendency for high energy levels (high energy levels? What?) and to take the world by storm. Make sure that you include outdoor adventures and recreation in your schedule especially during the summer months of June and July 2012.
~End Horoscope~
Well, that didn't really say much different than what it usually says. Oh well. We'll check back in a year and see what they were right about/what can interpreted as them getting it right. Oh well, whatever. If anything, it's nice to go into 2012 thinking I'll have more harmony than this year. There was some, but more is always better :)
So, see you later 2011! It's been a landmark year, what with moving to a big city and meeting new people and doing more jobs than I could ever imagine (and applying for even more). Hey, I still need to get paid for two of those…hmmm…
Later!
Rammfan518