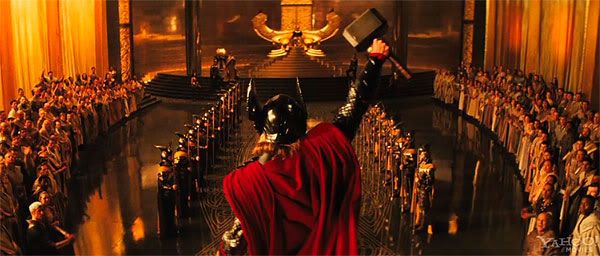 ***This review contains spoilers. Thou hast been forewarned ~ Sincerely, Rammfan518***
Hey everyone,
Since the girl I fancy didn't answer my message about going to the movies tonight, I went to see "Thor" by myself. And since she didn't answer my message, I'm not hanging out with her right now and have time to write this review. So here I am, drinking wine and writing a review of a Norse-based comic book on Saturday night. Fucking A.
All right, (or is it alright?), now that that little life rant is out of the way, I can get to reviewing "Thor". So. . .what do I do? Just tell you what I thought about the movie? Alright, seems easy enough. . .
Thor tells the story of Thor (duh!), a Norse-god jock, who is the king's son and just about ready to take his place on the throne. (If I went to Asgard High, I would probably hate Thor). During Thor's coronation, the evil Ice Giants from Jotunheim (Norse mythology boner!) try and steal their stolen WMD from Asgard. You see, the Asgardians and the Jotunheim-folk fought in a big war and blah blah Jotuns are bad and Asgard people are good.
Thor, outraged by this breach and the ruining of his special day, throws a fit and goes down to Jotunheim with his hammer Mjolnir and stirs up some shit. Thor is way in over his head, but since he's a douchebag, he doesn't even blench. Odin, his dad, saves his ass. Upon returning home, Odin grounds Thor and instead of sending him to his room, he exiles him to Midgard, or Earth, right in the company of Natalie Portman, Stellan Skarsgard, and Kat Dennings. (Good aim, Odin!)
Since Thor is gone from Asgard, his mysterious, weasily, black-haired brother Loki can work a master plan to take over or something. What follows for the next hour and a half are two narratives: One in the Norse-God world where Loki tries to take over and another on Earth where Natalie Portman tries to play with Thor's hammer. (Seriously, is she not the horniest character you've ever seen?)
So, after a couple betrayals, friends helping friends, Loki trying to kill Thor, and so on, Thor returns to Asgard (in classic Joseph Campbell fashion) and kicks some ass and then wins the day, yay!
Now, I didn't hate "Thor", for sure. I had a good time and there a lot of thrills and laughs to be had (and not stupid fan-service jokes, like, real ones). The visual effects are pretty impressive, and I loved seeing Asgard in all its glory. That was pretty badass. But there are some things that either annoyed or puzzled me. . .so here we go. . .
So, alright, after Loki learns that he's actually one of the ice giant babies (and NOT Odin's real son), he gets mad at Odin and starts yelling at him. Loki gives him a whiny earful before Odin starts having a heart attack like he's in the first scene of a House M.D. episode. Odin collapses on the stairs, and I'm sitting here thinking "did Loki's words, like, kill him?" Turns out that he is not dead, instead having just slipped into his "Odin-Sleep." Well what the hell is that? Seriously. . .what the hell is that? If Loki had hurt him, it would have been way more powerful (and dangerously close to the plot of "Gladiator", but whatever). So yea. . .that was kind of weird. "Oh yea, Odin just die for like half the movie and come back when we need you. . ." Like. . what?
Secondly, in the final battle between Loki and Thor, Loki is lying on his back. Thor places his hammer on Loki's chest and Loki can't get up. Is Thor's hammer that heavy? Really? This hammer couldn't weigh more than like fifty pounds! I know Loki is scrawny, but come on. . .
Additionally, what was this big huge metal thing? That didn't look Norse at all! And it breathed fire? Like. . .that was fucking random. What the fuck?
And what the fuck about the Natalie Portman/Thor relationship? They don't fucking end up together at the end? What the fuck? I guess this is opening them up for a sequel, but come on, dude. . .don't do any of that "to be continued" shit. But they did that anyway at the end of the credits with some "Avengers" thing. Are these movies stand-alone movies, or just big trailers for "The Avengers"? And if so, who's to say "The Avengers" is going to be any good? I hope it blows just so we can all be like "Oh, maybe making movies to advertise just one movie isn't a good idea." Blah.
Oh, and another thing that was brought to my attention. While watching the final fight scene in the film, where Thor and Loki square off on the rainbow bridge Bifröst, I couldn't help but think about older action movies from the eighties and ninties. Is it just me, or did action scenes, and just action movies in general, seem to be better back then? Back a long time ago, we used to have extraordinary fights in normal places. Remember the scene where Mel fights Gary Busey at the end of "Lethal Weapon"? That was on a front lawn. Or when Indiana Jones got in that bar fight, y'know, in that bar? Now, I don't have to be a senior locations expert to tell you that front lawns and bars are not extraordinary places (although they are both nice places to drink beer). But now it seems, with the ease of CGI, that a fight scene is a lot less about HOW the characters are fighting, but WHERE. Thor and Loki were fighting on the Rainbow Bridge, which is a crazy location, but was the fight actually anything more than some punches and falling down? Let's not even bring up the Mustafar duel from Episode III. . .I mean, come on. . .it's about the characters in the scene, not the location they're fighting. I mean, look at this. . . this is just in a room. . .
And this is way more exciting than any of the fights in recent memory, as well as the ones in "Thor". . .so, I don't know, just thought I'd throw that out there.
Oh well. . .all in all, "Thor" was alright. I think pretty much the only reason I liked it so much was all the Norse-shit, even if not everything was exactly how I imagined it (but I can't complain about that. . .there's like a gazillion interpretations of Asgard). I dunno, it was alright, but I won't be rushing to see it again or to buy it when it comes out on DVD like three weeks later.
Oh, and the trailers for tonight were "X Men: First Class", "Pirates of the Caribbean: On Stranger Tides", "Conan the Barbarian" and "Captain America: The First Avenger" . . .sigh. Oh well.