Hey, if you like this site, come and visit my new website by clicking here! There's not much on it just yet, but there will as time goes by!
Hey everyone, sorry I haven't been updating this blog lately, but honestly I think it's a bit messy and is due for somewhat of an overhaul, so just thinking about it creates a minor headache for me. I'm working on other stuff as well, such as the second Linnalapsi album and just other projects that need not be mentioned here. Usually after a long time of not blogging, it takes something drastic for me to get writing again. Well, here we go.
In the past couple days, I have caught some clips of the show "My Life as Liz" on MTV while flipping through the channels. Initially, I was curious about it, but after watching it for a couple minutes, my nerd rage shot up through the roof.
So, what am I going to talk about in this blog post? Nothing really important. In fact, this isn't really anything more than a huge rant (you've been forewarned) to flush out all the nerd rage that is packed inside me. For this "live blogging" rant, I have decided to watch an entire episode of this fucking stupid show and comment about the things I see. It's only a half-hour (which means a 20 minute episode), which is good. Well, here we go. To enforce my point, I took some screen-caps. First the image, then my commentary. The episode's timecode will be displayed on the left:
Here goes nothing. . .
00:29 – She calls her friends back home "the nerd herd." Fuck that shit. No group of nerds has a fucking name for their group of nerds unless they are fake poser nerds. REAL nerds don't refer to themselves as nerds because they simply are who they are, with no label attatched to it. Fuck.
00:49 – Look at Liz's fucking clothes. She's such a fucking hipster. Fuck.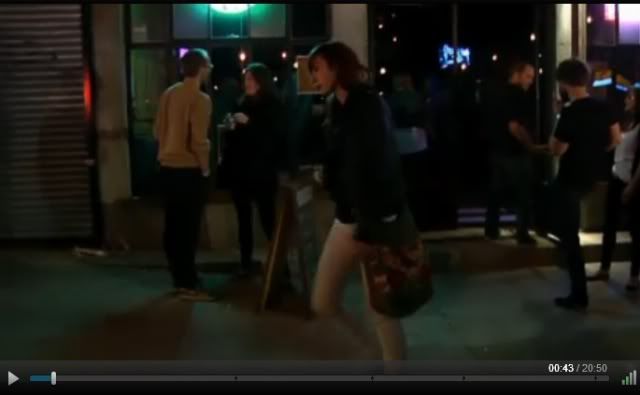 01:01 – I fucking hate this show.
01:26 – These people suck at acting.
01:37 – This guy is fucking lame.
2:08 – Liz just referenced herself as a fraud and a loser. Yes, you are a fraud.
2:23 – God I fucking hate this. Seventeen more minutes to go.
2:35 – Opening title sequence. Seriously? FUCK YOU. Being an "artist" and making fun of LARPers? Fucking A.
2:42 – I fuckin' hate how Star Wars is "hip" now. Fuck that shit. These fake-ass fuckers walk around with that shit and act "cool", but I bet they don't know the name of Prince Zixor's hottie assistant. And even if they did, would they know that she's actually a droid? Posers.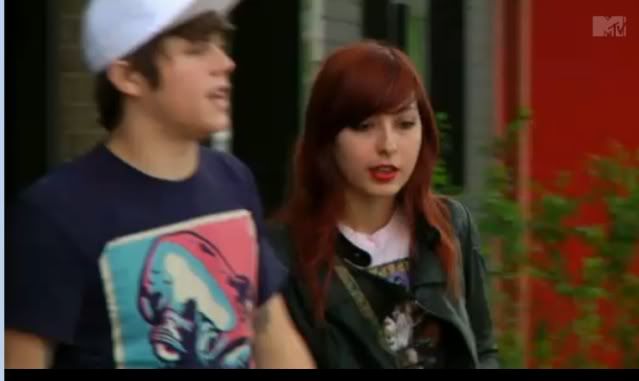 3:03 – Fuck this acting.
3:11 – Fucking stupid hipsters on a street corner.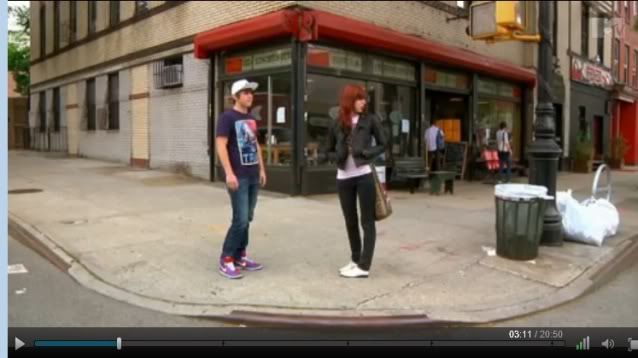 03:45 – God, I hate this shit! Do people actually talk like this??! The sad thing is that I know there's stupid hipster people who eat this shit up.
3:50 – Stupid fucking dumb song playing in the background. Fuck.
4:09 – I can't stand how this show tries to make Liz out to be so damn alternative and different. So she does laundry at a laundromat. . . so do a million other people!!! Fuuck. Liz is such a poser nerd.
4:36 – fuck this shit
4:54: Sully is her obese friend. He is the most nerd I have seen so far. Guessing by this show's fucking lameness, I am guessing he is not a very accurate one.
5:35 – I hate it when stupid poser nerds have stupid conversations they think are funny but aren't.
5:49 – Name drops of Bilbo Baggins, Jango Fett, and Plo Koon. Well at least they got Plo Koon in there.
7:10 – Liz just refered to herself as a "socially-anept freak of nature". Come on. . .she has friends and is obviously socialable. Were she a socially-anept freak of nature like she said, she'd be inside on her computer playing an MMO and afraid to go outside.
First commerical break: Alright. . .things we have learned. Nothing. Alright, back to the stupid show.
7:51 – Liz just admitted to her STUPID love interest that she has actually been lonely in New York. Finally, some legitame nerd-life coming through the show. Judging by the show's tone and mood or whatever, I predict this lonliness won't last long.
8:38 – I just realized that she ALSO has on a Star Wars T-shirt. And not just any one, the rare Japanese poster of "A New Hope." You are really trying too hard, MTV.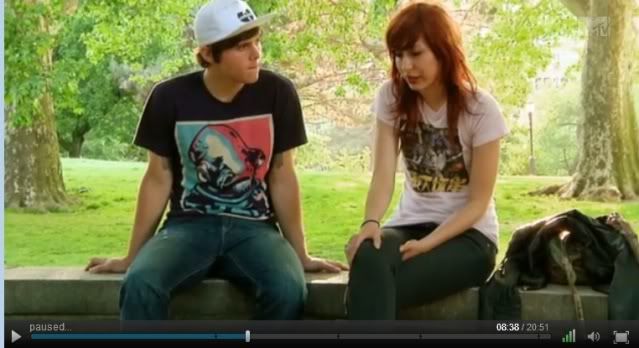 9:21 – Sully wearing a Pokemon shirt. Trying too hard.
9:28 – Sully just reffered to Bryson (Liz's stupid romantic interest) as a "hipster." I rest my fucking case.
9:37 – Why are they on segways???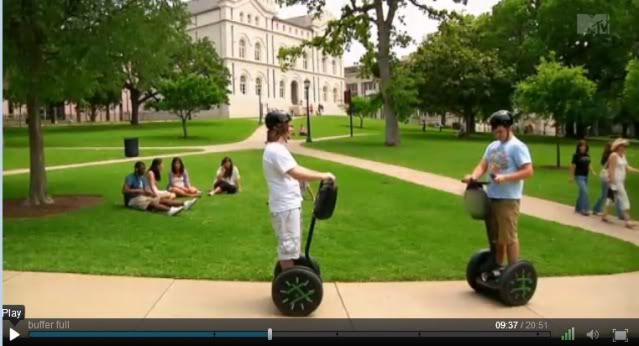 10:05 – Sully just referenced Liz as a "first edition holographic Charizard card". Come on. . . . I have made many comparisons like this before (once comparing my last attempt at wooing a particular girl to the Battle of Endor., what with it being my last shot and all.) From this pokemon statment I can at least gather that Sully likes Liz, which is the second nugget of true nerd life I can find. Obese nice guy likes cute, artsy girl. Now let's watch her crush his heart!
11:15 – Wow. Stormtrooper helmet. Subtle. Just to let you know the plot of the episode, Liz is in New York going to college and has a found-art art project. . . .so she's looking around for shit. They entered this costume store and picked the most shallow hipster nerd thing available.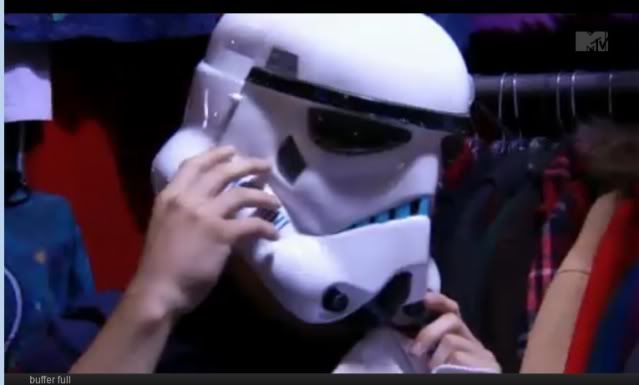 12:14 – Bryson said "I bet for twenty bucks I'll make you forget all your problems." He sound like a prostitute.
Second commercial break: I hate these fake hipsters.
13:02 – While hitting golf balls to let out her frustration, Bryson is suggesting she vent out her frustration. He suggests to hit a ball for "all those pretentious hipsters who knew about that band way before you." . . .YOU ARE FUCKING HIPSTERS!!! And secondly, if you have 20 bucks and she has a found art project to work on, GO BUY SOME CHEAP SHIT TO USE IN THE PROJECT, YOU FUCKING MORONS.
13:51 – Wow, there's a party and a streaker! THIS SHOW IS SO ACCURATE!! Fuck me sideways.
14:40 – Sully, the nerdy obese dude, makes a call to Liz, who's in New York, while he's at a party.
15:04 – Sully is bummed when he learns that Bryson is there in New York with Liz. This is another nugget of real-life nerd-dom, but why aren't these nuggests happening to our MAIN CHARACTER, you know, the REAL NERD?
15:14 – Sully is the closet thing to a real nerd, and as far as I can tell, the only character with feelings.
Last commercial break: I am so done with this stupid fake shit.
16:02 – Sully talks to a girl about how he feels for Liz. Real nerdery is making a comeback, perhaps?
16:10 – Sully just said she's cool because she "knows things about Star Wars I don't even know about." Perhaps I spoke too soon.
16:31 – Sully just said he was depressed all the time. Real nerdery is coming back.
16: 46 – The girl who was listening to Sully talk about how he missed Liz just gave him her number. This would never ever happen. Or it would, and she wouldn't respond any of his calls. I'm trying not to sound bitter here, simply realistic.
17:10 – WOW. Where else is a fake nerd to go to at the end of the day? That's right, a fucking comic book store. A FUCKING COMIC BOOK STORE. Fuck me. This is SO FAKE.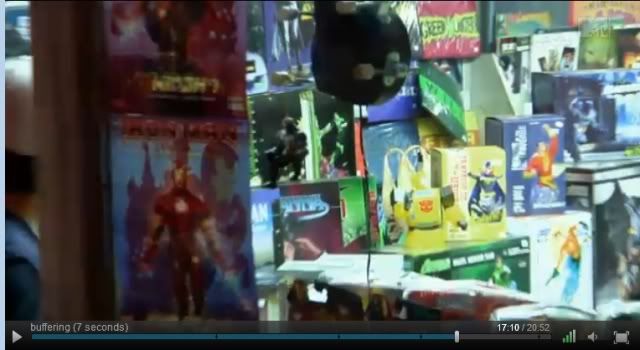 17:35 – Oh, look, we joined in the photo of the foreign tourists. Look at how FUCKING UNIQUE OUR FUCKING LIVES ARE!
19:13 – I hate these fucking people and their stupid relationship.
19:46 – Fuck you.
Alright, so now that the show's over, let me sound off a bit. Alright, first off, let me just say that I am appalled at how fucking fake this show is. I understand that's it's just a tv show and blah blah, but fuck. This show is appealing to a nerd demographic without it being about nerds. Sure, I'll reference myself as a nerd or a geek, but it's never in a positive light. Why would it be? Alright, so I might celebrate May 25th (I bet Liz doesn't know what this day means), but it's never a grandiose celebration and it's one day a year. Liz and her friends call themselves nerds in a positive light. She even calls her friends the "nerd herd". Give me a fucking break. She is trying WAY TOO HARD.
If anything, this show shows a romanticized version of nerd-dom, which shows all the fun parts about being a nerd, but none of the bullshit that comes along with it. The Star Wars conversations are there, the obscure interests are there, nerdy names are dropped. . . but what isn't there is the real nerd life which consists of the following: dealing with preppy and bro assholes, being unseen, feeling under-appreciated, being vastly unnoticed by the opposite sex and being confused about it. Where's the television show with twenty somethings who aren't having a good time? Where is the show with the twenty something who remain single and can't find a date? Where's the show about the person getting excited about their favorite thing no one else gives a flying fuck about? Where is the television show with a person who writes an article late at night for a blog no one will read?
I guess I can now understand nerds' complaints about "The Big Bang Theory", which follows suit with it's nerdy name-dropping and referencing. However, it being a sitcom, I can deal with it being a little bit un-real. "My Life as Liz", trying desperately to be hip, is awful.
I was telling someone about this and they told me to "relax." The I talked to friend of mine, a fellow nerd (once again, not positive), and he said that "no one wants real nerds." This is true. People want to watch non-nerds do non-nerdy things, but since they are wearing nerdy shirts, they must be nerds. My friend also had this to say. "Just because you have a Star Trek toaster and make Star Trek toast doesn't mean you are a nerd." I heartily agree with you, sir.
In this argument, I consider myself a real nerd. Why? Because I went to the comic book store and fucking asked about when the new All Star Batman and Robin is coming out (because I LIKE it). Because I started working on a book about analyzing the Star Wars prequels. Because the only songs I am learning on piano are Finntroll songs. Because I lost the Battle of Endor.
Get it?
I guess all I wanted to say was that this show and it's self-proclaimed geeky characters is fucking bullshit. And it sucks. And it's fake. And it sucks. And it's bullshit. Don't watch it.