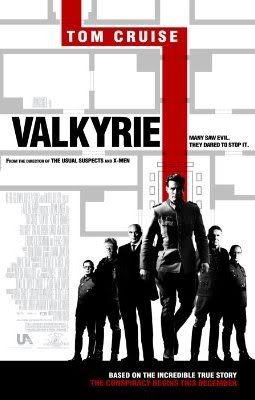 When I first heard about this movie, I didn't really know what to think. First off, I was being a little jerk and thought it would annoying to see a movie set in Germany featuring Germans speaking English. This was after I spent a year in Germany and, well, a movie with Germans speaking English just seemed silly. But then I realized that Tom Cruise and Bernard Hill and Bryan Singer, nor the American film-makers, probably didn't know much Deutsch beyond the great words "Winerschnitzel" and "Scheiße." And Tom Cruise as a German guy? Really? When I look back on it, I realize that this was all just nit-picking and that I might have just been a little nervous about what the movie was going to portray.
After spending a year in Germany, I learned and expierenced the dislike of Adolf Hitler and Nazi Germany. It is illegal to display a Swastika in Germany, and I believe that it is illegal to do the Nazi Salute. (We all know they say when they do it, so I won't type it. Don't really want to anyway.) It is not permitted to have the letters "SS" (Schutzstaffel = Hitler's protective squadron) and "KZ" (Konzentrationslager = German for "Concentration Camp") on the license plates of their cars. The numbers 18 (first letter of alphabet, A, and eighth letter H, A.H. = Adolf Hitler) and 88 (H.H.) are looked upon with suspicion when displayed anywhere but the market. Friendly discussions can turn heated ones at the mention of anything to do with Nazi Germany, and when a German mentioned the SS , it quickly led the other Germans I was with to jump on him and have a very loud argument on the train, providing me and the other American I saw with a pretty awkward situation. Basically, Nazis are not welcome in Germany, nor is any of their bullshit. So I was a bit concerned when American studios were making a movie about Nazi Germany, and was hoping that they would do it respectfully.
And respectfully it was done, I thought. It is a good film with good acting and OMG SUSPENSE, but if I wanted anything from this film, it was a look at those Germans that were not Nazis and did find Hitler's ideals wrong. Die Leute des Widerstands, the people of the resistance, that stood up to do what was right in that time. "Valkyrie" was a World War II film that didn't feature Germans as just faceless Nazis, which I think has led to the whole Nazi/German-sounds-like-an-angry-language stereotype. FINALLY. It's about time we saw that not everyone was like Hitler, or how as Henning von Treckow (portrayed by Kenneth Branagh) said: "We must show the world that not all of us are like him." Good work, Singer and Cruise and all you guys. Finally, a movie that shows that there WERE good Germans. I'm pretty sure that some people knew that already, but I'm pretty sure there are also still some people who think there are Germany has a Nazi government, so it was still needed, I guess.
Well, it seems like I watched this movie for completely different reasons that anyone else would. In terms of a film, without my foregin exchange baggage, the film is highly entertaining and suspensful. If you know anything about World War II history, we know that this assassination plan does not succeed, but it's suspensful ANYWAY! How did they do that? How can you make that suspensful? Well, I don't know, but they did, and I have to say I was thinking about the movie for a couple hours after I saw it, and that, like, never happens. And it's not just like the ending of the movie is intense. . .the whole fucking movie is! It's awesome! Really great. Good acting from everyone, too.
So, if you want to learn something about history and experience the near downfall of Hitler's Germany, watch this film! Hell, I'll go watch it with you. (If you pay for the ticket, of course.)