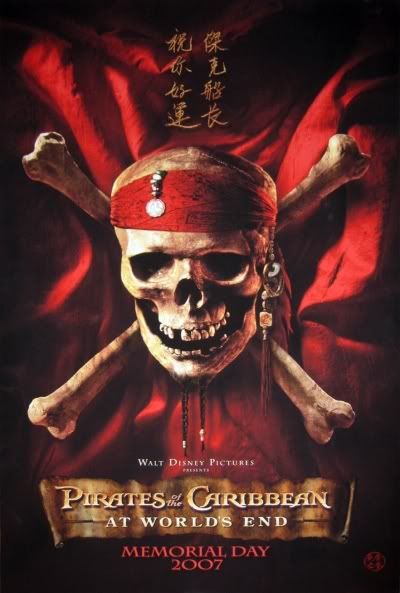 ***this review discusses parts of the plot and may act as a spoiler! If you haven't yet viewed the film and don't want spoilers, then perhaps you should return to this review after viewing it. It has some bad language as well. Sincerely, Rammfan518***
I still remember going to see the first Pirates of the Caribbean movie way back in the summer of 2003 and how excited I was. That movie was excellent! Then Dead Man's Chest came out in 2006 and walked out of that show with a great big smile on my face. I could not wait for the third to be released. Thank god we only had to wait ten months.
The Story:
What the fuck is going on? Now, I was at the midnight show and extremely tired, but I don't think I could have understood the story if I was wide awake. What is it with these new sequels, like The Matrix and Pirates of the Carribean having plots that make you go cross-eyed? The plot only gets more confusing in this third installment. The film begins with a yawner as Beckett and his asshole friends start hanging all these pirates or people associated with pirates. They pirates all begin to sing, which actually sounds kind of eerie and cool.
The scene changes to Singapore where Elizabeth is in a little boat. She teams up with Barbossa and both of them go into the bath house of Sao Feng, Chow Yun Fat's character. Lots of talking goes on and Will was a thief or some shit and blah blah blah. All this dialogue leads to a fight with the East India Trading Company barging in with all their guns. The good guys run away and Sao Feng agrees to give them a boat and a ragtag group to journey to World's End in order rescue Jack Sparrow. The small boat goes through an icy sea and eventually over the edge of a great waterfall (World's End) into Davy Jones' Locker. (Where Jack is.)
Now, this is when I started to really dislike the movie. Jack Sparrow is on his ship with a whole bunch of versions of himself and. . .ugh. . .that's so stupid. There's some weird indy-film style directing with some rocks that turn into crabs and Jack walking around practically psycho. I liked the mushroom-trip from Tenacious D and the Pick of Destiny a lot better. So yea, Jack's wandering around and then his buddies arrive. After that, they leave. What the hell? That was World's End?! No monsters, terrors, or threats? All they did was fall off a huge, supernatural waterfall. That's crap.
I don't feel like going into the rest of the story in detail for two reasons. One, I don't really feel like it, and two, I couldn't if I wanted to. The story gets so freakin' complex with people moving from side to side, from ship to ship, allegiance to allegiance. It's worse than high school cliques. As I kept coming out of my dozes I would often find myself surprised at who was on whose ship. Why is Will standing with Beckett and Davy Jones? I don't know, and I don't really care either.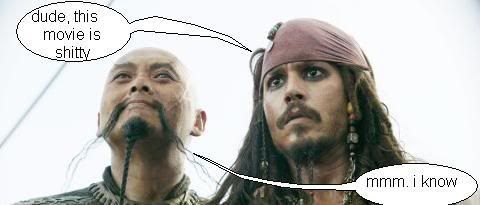 Apparently Tia Dalma is the ocean or something and she gets all big like the chick in "Dude, where's my car?" Then she turns into a whole bunch of crabs and they all scurry into the ocean. Yea, I was as confused as you were. There is also a scene where Jack sees a whole bunch of two tiny Jack Sparrows, playing the role of his conscience. What am I watching. . "Requiem for a Dream?" The final battle between the two factions, East India Trading Company and the Pirates was anti-climactic. I couldn't even stay awake during the final action scene. . now that's bad. In the end, Davy Jones dies and Will has to be the new captain of the Flying Dutchman. (Because whoever killed the old captain has to be the new, which is some new concept the writer's just pulled out of left field. . ugh) Jack survives as do the other pirates. Elizabeth is sad that her hubby can only come on land once every ten years and. . . uggh. . this movie did not satisfy me in the slightest.
I have no clue how they could have fucked it up so bad. Now, it's their story and all, so they can do what they want, but I mean. . .where did all the coolness go? This could have been the coolest pirates movie ever! But they replaced a suave, battle-laden, plot-tyer-uper with a confusing two hour and forty-eight minute soap opera with hardly any action. Sucks for any movie, suckes especially for a finale. The first two films were fun and exciting. This was neither. Even the 'comedic' parts weren't funny. The only thing I laughed at was the little monkey. He was the funniest guy in the movie!
In the end, the first two were great, the third chapter: shitty. Although I liked (slash hated) Star Wars: Episode III: Revenge of the Sith and found Spiderman 3 to be quite enjoyable, I do not understand what is plaguing the movie industry's third acts of trilogies. "Oh, a trilogy? Make sure to cram as much shit as you can and cram it into one." At World's End suffers from too many plot lines, unfunny jokes, dead and undead dying characters, weird circumstances about pirate lore and just all around crapiness. I would have been extremely satisfied with a simple plot in which they saved Jack, fought some monsters, regrouped with the pirates, and fought Beckett in a huge ship battle. I see nothing wrong with that.
"Drink up me hearties, yo ho?" . . sorry Jack. . but. . not this time around.