In the following, I will talk about the first five (of twenty) on my list of movies I am looking forward to this coming year. Next to each movie title is a "wait" meter. A lot of stars translates to "I am busting up to see this movie!" and one star translates to "Can wait a couple years." You can fill in the void between 1 and 10. haha. Enjoy the list! Here we go:
300 **********


I have been excited for about a year. This movie was on my "Looking forward to in 2006 list," let's see what I said:
I am so damn excited. I love the story of Thermopylae so much, that I went out and bought the 1960′s movie "300 Spartans." The story of Theromplyae is that 300 Spartan soldiers held off a quarter of a million Persian warriors by blocking a small pass. Oh my god! I can't wait to see this movie. Plus, Gerard Butler is in it. He is one of my favorite actors, and he's gonna be playing King Leonidas? Holy shit, this almost seems to good to be true.

Not much has changed. The only difference from last year is that I have actually seen the trailers, religiously watching them over and over almost every day. "This is Sparta!" yells an oh-so-awesome Gerard Butler. The visual style is amazing, the colors fascinate the eyes, and I am so excited to see all the strange animals/creatures in the Persian army arsenal that I have seen from the trailer. I cannot wait to see this. I am seriously thinking that it will be in my top forty, or maybe even thirty, movies immediately. The trailer is better than some movies I have seen.
Alice *__________

Now, I don't really want to see this movie, but I do want to see how they translate the awesome visuals of the game into a film. In the game, everything is twisted and rusty, bloody and macabre. This movie would be pretty cool if it was strangely animated cartoon like in the advertisements for the game. Not really expecting much story, but eager to see the visuals.
Aqua Teen Hunger Force Colon Movie Film for Theaters ********__


I have not seen many episodes of ATHF, but I have loved every single one I have seen. The animation is great, the comedy is great, hell, the whole show is just comic genius. Master Shake is the funniest asshole I have ever seen, Frylock is funny for some realistic commentary, and Meatwad rocks as the ever-innocent guy that talks funny. The show is full of interesting characters and I am looking forward to see how they make it into the movie. The television show, comically, has never let me down, so I think the movie will live up to the show's reputation.
"Highlander was a documentary, and the events happened in real time. . ." -Master Shake
Beowulf *****_____


This will be pretty cool. I have been wanting to see a serious CGI movie for a while. I'm gowing a little tired of seeing every darn animal on the planet being CGI-ed and put into some jungle adventure. Can filmmakers make people, and can they make us care about those people? I think Robert Zemeckis will do a good job. Apparently this movie's 'person' animation was all done by motion capture, much in the style of 'The Polar Express.' Also, I am wondering what this Beowulf adaptaion is going to be like. I have seen two Beowulf movies: the horrible sci-fi, Christopher Lambert version from 1999, and the more recent, 2005 Gerard Butler and Stellan Skarsgard blood and cuss fest. I guess it is funny, the 2005 Beowulf was filmed completely without any computer effects, and this new adaptation is completely computer animated. We'll see how this CGI version turns out.
Black Sheep ********__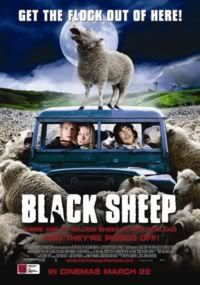 I saw this title on the list for 2007 releases on some movie website, and the only reason I clicked on it is because I absolutely love the Chris Farley and David Spade movie (I'd call it a 'masterpiece') of the same name. No way they can do a remake. . .I thought. And thank God, they are not, but rather, are making crappy horror movie. The plot synopsis is this: There are 40 million sheep in New Zealand, and 4 million people. Then, a virus gets into the sheep and they go crazy and start killing people. At first I thought this was a serious plot, but have been informed that it is a slapstick horror comedy (probably like 'Shaun of the Dead') This one looks like one for the DVD collection. Looking forward to lots of laughs.
Stay tuned for more hype!
Peace,
Rammfan518